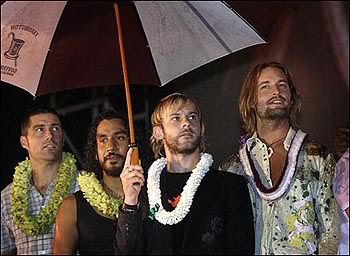 Today's Tune:
Click, Click, Click, Click
FINAL SEASON OF LOST FINALLY STARTED OMG.
Now that that's out of my system... I'm a LOST fan, obviously. I love this show, but GRAH if it doesn't drive me absolutely crazy sometimes. There are many things that work and keep me watching, but other things that frustrate me to the point of blogging about it.
What works?
1.) Suspense and mystery everywhere. Nothing is as it seems.
2.) Tons of characters with layers upon layers of backstory.
3.) No one is as simple as they appear. There is good and evil in everyone. Characters have reasons for their actions.
4.) Interesting and beautiful setting that is itself part of the story.
5.) Scottish guy that calls everybody "Brother." You can't lose with one of those.
What drives me ABSOLUTELY FREAKING BONKERS?
1.) Too much going on. More and more mystery with little to no resolution. It's frustrating.
2.) The story has gone on so long that characters and events are becoming predictable.
3.) Tied into that last: characters make the same mistakes over and over. Many don't seem to grow.
4.) Too much of the current storyline is dependent on backstory that is most likely being made up as the story moves along.
5.) OMG WHY HAS NO ONE SHOT BEN IN THE FACE YET?
I'm not really prone to violent tendencies, I swear. BUT SERIOUSLY.
Now, clearly, there is a different set of rules for popular television versus literature, but even so I think a lot of these pros and cons can be tied in to writing. Where LOST has gone on for about two seasons longer than it should have due to its popularity, we often see similar fates befall book series. It even occasionally happens to single novels - too much is going on without enough resolution, the characters meander instead of being forced to grow, and hiccups in the plot are "solved" by layering in another twist or more convenient backstory.
The problem: Trying to milk a good story for more than its worth, and having the overall plot suffer as a result.
The solution: Know exactly where a story is going, and know when to cut it off. Hint - cut it before your characters start getting predictable or even annoying, and before you've frustrated your readers with eleventy billion sub-plots.
It's not like LOST's writers don't know that this happens. They do have an episode titled
Dues Ex Machina
, after all! It's a wonderful example of how a story can have a multitude of brilliant elements that keep you coming back for more, but also make some not-so-great mistakes along the way.
Learn from LOST. Create well-rounded, likable characters. Kill the annoying ones, and once in a while kill off a beloved one for maximum angst. Keep suspense and mystery high, but don't forget that your audience is going to need SOME resolution before they lost interest. Make your setting matter. Don't depend on backstory too much.
And get a Scottish guy, for serious.