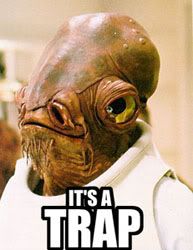 Today's Tune:
Snoopy vs. The Red Baron
It's been a while since I've done an IT'S A TRAP! post, hasn't it? Why don't I post one? Sounds like a Monday plan!
IT'S A TRAP!: Your Child/Teenage Protagonist KNOWS EVERYTHING!
You have a middle-grade or teenage protagonist, and they're smart. Totally smart. You want to show your readers just how very smart they are. So, of course, you make sure they already know everything ever. They're bored in class because they've already studied all the topics. They've already read all the classics because, well, they're SMART and they read them for fun. Duh.
I've seen this trope quite a bit, mostly in YA lit. The protagonist has just moved to a new town, and they're going to their new school. They attend their first class and oh, gosh, it's Chemistry. What a bummer. They already TOOK Chemistry at their old school, so all these labs are old news. Next is English! Aw, what? The assignment is to read Beowulf? But Protagonist read that already! How droll. Cue being bored and contemplating own superior intelligence.
Smart protagonists are awesome. I write smart protagonists. But no one knows everything, and when we write main characters that have nothing new to learn, it comes across as irritatingly false. It's especially grating and cliche when the method for revealing their intelligence is to show that they're already So Much Smarter/Well-Read/More Advanced Than Their Classmates. Also, why the heck would a student repeat a course they've already had at a previous school? Of course they already know everything in Algebra if they've already taken the course. This isn't a good way to show that your protagonist is intelligent.
Don't cheat your story and your readers by ensuring your brilliant shining star is clearly at the college level in everything ever. Even geniuses aren't geniuses at everything. We all have our strengths and our weaknesses. If your protagonist excels in certain areas, let them suck at something BESIDES Phys Ed. Why do bright characters always seem to suck at Phys Ed?
Characters who know everything and blab about how they know everything aren't generally very likable. They have a tendency to develop an attitude that implies the majority of their peers are beneath them, and that's not a trait you want your MC to have. Unless you've purposely written them that way, that is.
There are ways to show off your protagonist's smartypants without resorting to the cheap parlor trick of "Well, this class is a WASTE OF MY TIME because I already know more than what the teacher can teach me." Let them show their scholarly chops without being a stuck-up brat about it.
Note: this tactic could actually work for a character that you DO want to appear as a know-it-all jerkface. Just sayin'.